Subject: An open discussion list for topics related to the geteduroam service
List archive
From: Stefan Paetow <Stefan.Paetow AT jisc.ac.uk>
To: geteduroam <geteduroam AT lists.geant.org>
Subject: geteduroam odd behaviour on Android 10?
Date: Tue, 8 Dec 2020 13:15:15 +0000
Accept-language: en-US
Arc-authentication-results: i=1; mx.microsoft.com 1; spf=pass smtp.mailfrom=jisc.ac.uk; dmarc=pass action=none header.from=jisc.ac.uk; dkim=pass header.d=jisc.ac.uk; arc=none
Arc-message-signature: i=1; a=rsa-sha256; c=relaxed/relaxed; d=microsoft.com; s=arcselector9901; h=From:Date:Subject:Message-ID:Content-Type:MIME-Version:X-MS-Exchange-SenderADCheck; bh=/YlWpMs/t1VL9fh2/u3Rx6gWf+ZbzUfhTsEabfnKCKU=; b=X7yc4T11U2pxpQ70nubWPXJwQlyrCH6osSkDKiTzXEJozHA/pU/NoGEt7pX+bF4gZZR0kWkr/bNqscUORciz/YaIYIMIRWUtHpMpvjFBnlBDiw6nwVIZmvHs0TO+rMlUQpNcZge20/eIh+fNguBlCgRO5mgOJg8VVNJqVcB4IWAwouIYoWb9numCMtQOFc6AbSTNdlM3obBoeWjyEzTN0z1b63BZGQomYG6aPvqurHv0FPB1NrlHNAjCAD0+y7/bnIqDz+PH2m+Xs+k4oCcvIuDpkLyNmjaNpM1cc6ACqyYT1LGvu37zx0UwYz5/8ZboNKTMho1dRGIHdd2L2YM4Ig==
Arc-seal: i=1; a=rsa-sha256; s=arcselector9901; d=microsoft.com; cv=none; b=VJgtgr4rH8RLUXpzf0NIa/Z72aLlThVyFVU1apVftsVGrsTLmEq5/pbtNQuaCF4qlIZS9BdhK8hhqmGPqfNsAH7WFiwwYp4wGJuvbLLIyK/G9KBe/DK1Jrf7MgVzvGvH4R6PCZ3XPeM+XzOlKzcqjiPVjris36xd9fat0JkOtHeK6DBevycIc8h8ayT+w5G3L2Bm019puiQxGy7JDv3mHoU5wyJ4DfzYVkLhlpYnmzTIr40VWtdHoUgeHVlg1Xv/YQBcUTx9DGp0Iox7kyXMNk0lIC5b31S+B82V4qY1+M1Y4Nn9D2p7XtAfaKSacBhCLXby+SLidNbZ/4PcFXrGxA==
Authentication-results: lists.geant.org; dkim=none (message not signed) header.d=none;lists.geant.org; dmarc=none action=none header.from=jisc.ac.uk;
---
Hi,
We've had one of our members, Bath Spa University, evaluate geteduroam as a way to get away from the eduroam CAT app. They report that on Android, a profile installed with eduroam CAT works, but one by geteduroam doesn't. I've installed an Android emulator to try and see what they see. What I see is that geteduroam sets the username correctly, it sets the outer username correctly, but it does not set (or maybe I misunderstand Android) the CA certificate as it should? I have looked at their eduroam CAT profile and they have set the CA root in their profile.
See the three screenshots.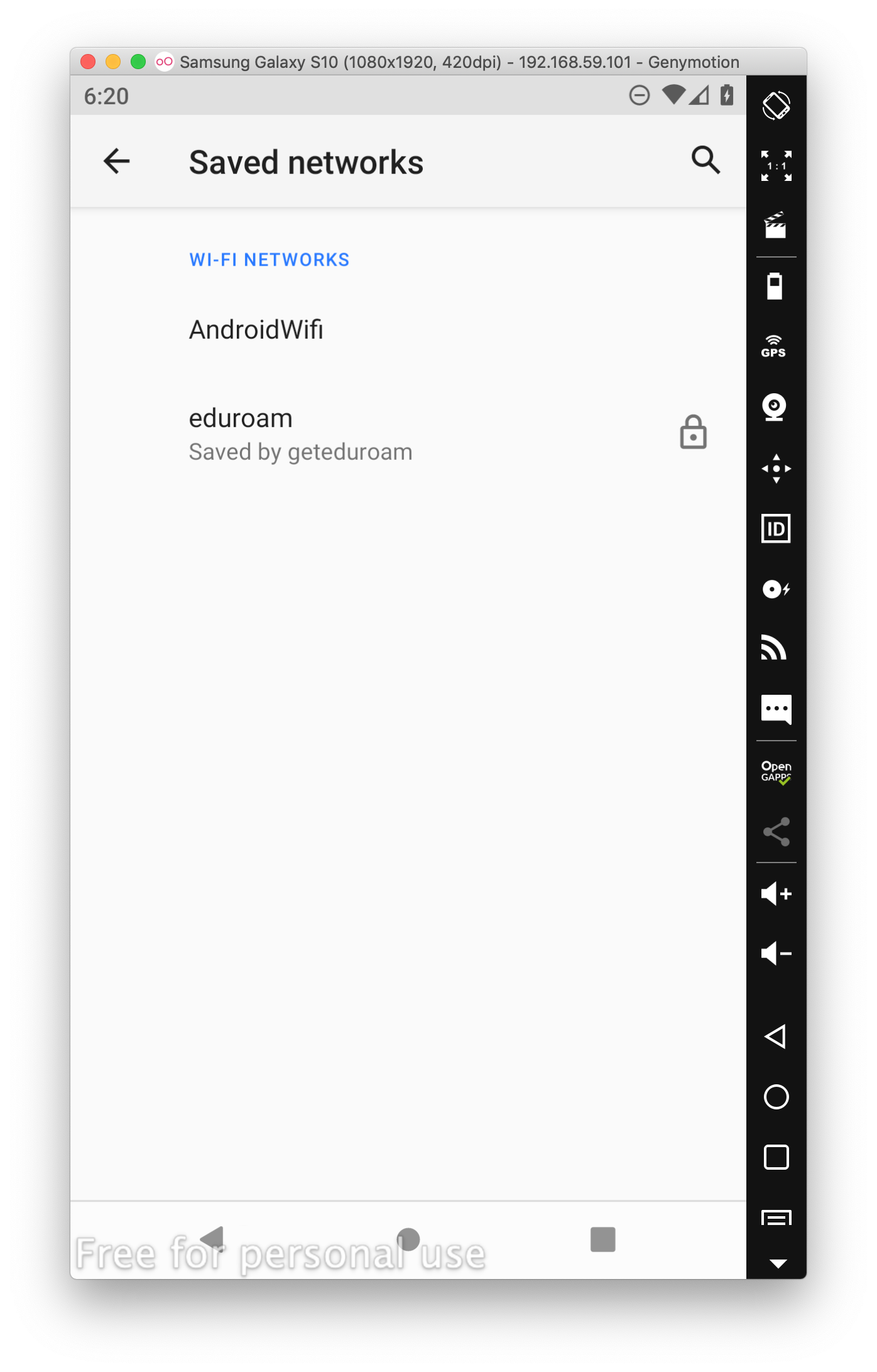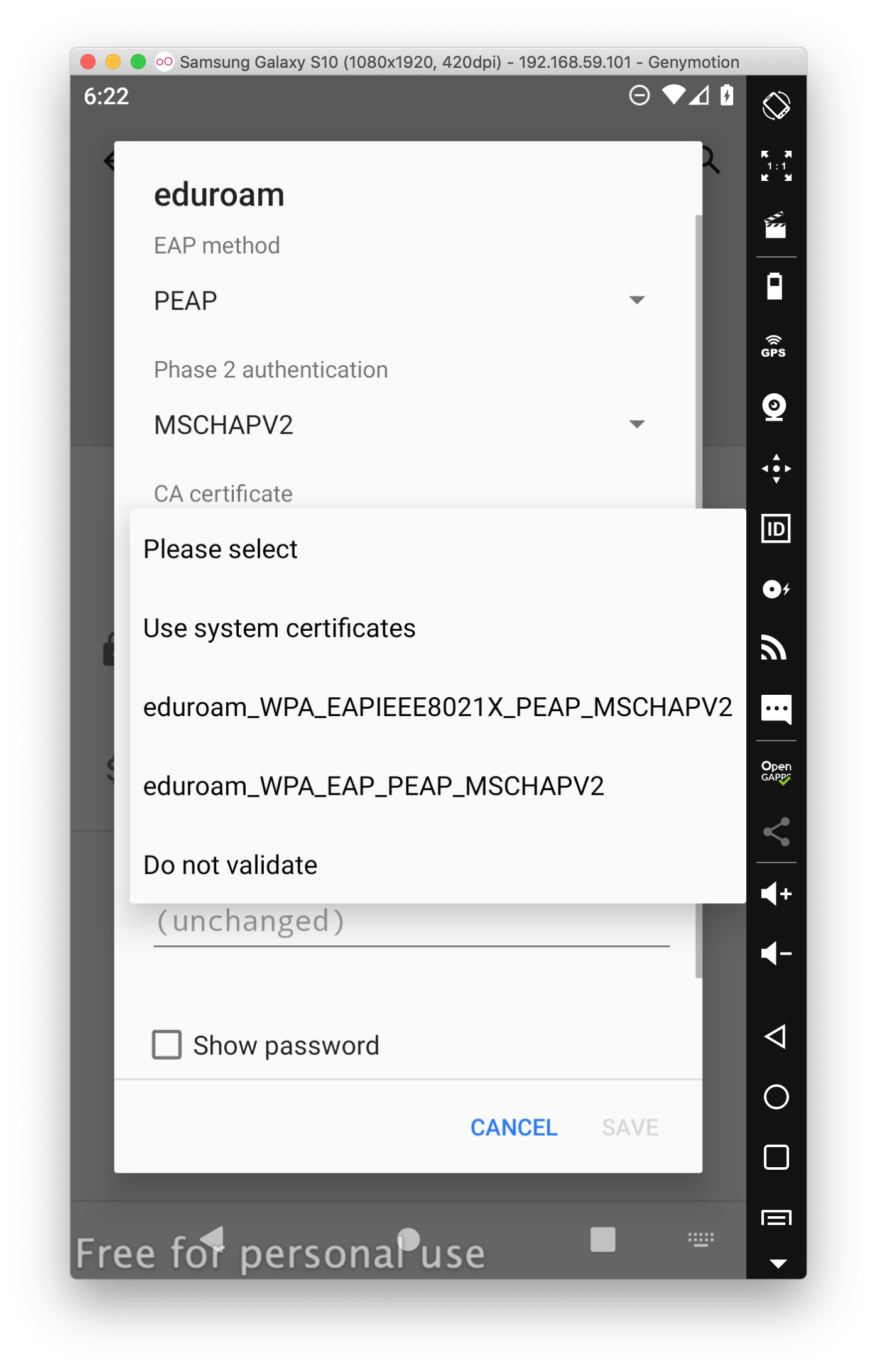 Are the 'eduroam_WPA_*' certs the ones installed by geteduroam or does geteduroam use the actual certificate names/CNs for that?
Thanks in advance ☺
Stefan Paetow
Federated Roaming Technical Specialist

t: +44 (0)1235 822 125
gpg: 0x3FCE5142
xmpp: stefanp AT jabber.dev.ja.net
skype: stefan.paetow.janet
In line with government advice, at Jisc we're now working from home and our offices are currently closed. Read our statement on coronavirus.

jisc.ac.uk

Jisc is a registered charity (number 1149740) and a company limited by guarantee which is registered in England under Company No. 5747339, VAT No. GB 197 0632 86. Jisc's registered office is: One Castlepark, Tower Hill, Bristol, BS2 0JA. T 0203 697 5800.
---
geteduroam odd behaviour on Android 10?, Stefan Paetow, 12/08/2020
---
Archive powered by MHonArc 2.6.19.